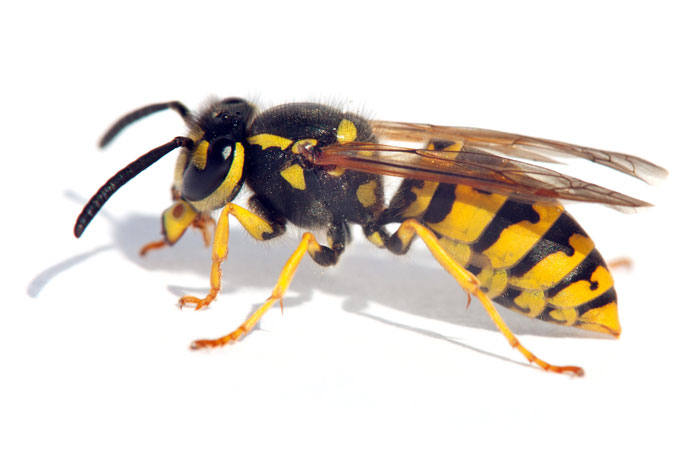 Wasps Nest Removal and Insect Control
Need a wasps nest removal from your loft?
Plagued by flies or ants?
Flea or bedbug infestation?
Our team are experts in the removal and eradication of common insect pests, especially wasps, ants, bed bugs and flies. We keep disruption and chemical use to a minimum, so you can reclaim your home, office or commercial space from invading insects more quickly and safely. We can advise on insect pest control measures, so the problem doesn't arise again.
Contact us with details of your wasp nest removal requirements, insect infestation or pest problem.
Wasps Nests Removed
Wasps are persistent pests that can invade eating and drinking areas, and you home too. A single sting can cause a severe allergic reaction for some, as well as being painful and frightening for children. When wasps build a nest in your loft, on your property or near any outside dining space, you need to deal with it quickly.
Our team specialise in same or next day wasp nest removal, removing nests with minimal disruption or use of chemicals. We also provide wasp control methods that are effective and efficient for busy outdoor environments such as pubs gardens, restaurant terraces, hotel grounds, etc, which are so crucial for social distancing these days.
Call us on 07890 297820 to discuss wasp nest removal, hornet nest removal and prevention methods such as efficient wasp traps.
Bee Swarm Removal
Swarming bees are simply looking for a new home, so please do not touch them, spray them or attempt to move them yourself – that's our job!
Bees are vital to our ecosystem, especially honey bees, so every bee is precious. We can carefully remove swarming bees and relocate them to new hives, with the help of dedicated beekeepers across southern England.
We use traditional methods to subdue the bees, bag them up, and transport them safely to a new home where they can establish a new colony.
If you spot a swarm of bees, call us ASAP on 07890 297820.
Bed Bugs and Fleas
Any house, home hotel room or shared house can get bed bugs. Don't feel ashamed if you find fleas or bed bugs at your property – take action quickly and they can be eliminated before everyone is scratching like a hound.
There is no effective DIY or home solution for bed bugs – you need professional help. We use an insecticide treatment which kills both bugs and eggs.
We use established and proven flea treatments to get rid of fleas and discover the source, whether on your dog or cat
Call us as soon as you spot bed bugs or fleas – 07890 297820.
Flies and Ants 
Flies and ants are insect pests, and can cause considerable damage as well as being a major health risk in any environment where food is present.
• Flies are attracted to old food, rubbish and bins.
• Cluster flies hibernate in walls and roof spaces during the autumn, emerging in spring
Our team can advise on ways to eliminate the flies you have, and we have years of experience in preventing cluster flies. We can eradicate ants and advise on ways of preventing them returning too. We offer commercial fly control and ant control for businesses and the food and hospitality sector too.
Call us on 07890 297820 to eliminate flies and ants at your home or business.
Silverfish
Silverfish are silvery-grey pests that love humid environments, so you'll usually find them in cupboards, in your bathroom, cellars and any dark damp corner. Our team will seek out the silverfish and the source of the damp, eliminate the silverfish and advise on ways to remove the damp too.
Call us to discuss your silverfish problem on 07890 297820.
Other insects
Whatever insect problem you have, we can probably solve it. Call us with your issues, including carpet beetles, clothes moths, ladybirds, and cockroaches.
Contact us to discuss your pest removal requirements:
Call us on 07890 297820
Send us pictures of your pest problem via WhatsApp